Favorite Links
Favorite Links
The following is a list useful links we have compiled. If you wish to be added to this list, please e-mail us.
Favorite Sites
A must read for everyone. Click on California NOW's 2002 Family Court Report to read NOW's report about California Family Court Corruption.
California Association created to address the disturbing, rising trend in battered, protective mothers losing custody of their abused children to the abuser-father via California Family Court fraud, corruption, and constitutional violations. CPPA's mission is to protect children from incest and family violence through research, education and advocacy. It has joined forces with other organizations (listed here) to take collective action (Statewide Appeal) against the State of California for its egregious Constitutional violations against mothers and children.
Children forced to live with abusive parent via Family Court RICO fraud, which also restricted or sometimes completely eliminated contact with healthy, protective parent (mother). Website created by and for children victimized by Family Court "professionals" and abusers. Heartbreaking.
Family Law Courts: excellent site full of media reports, articles and statistics; dedicated to naming names of corrupt judges, attorneys, evaluators, and to exposing Family Law Court corruption, fraud, violence, and criminal negligence. Be sure to read about CA Judges who receive awards shortly after they get kids killed and LA judge who repeatedly sodomized--in chambers--a young boy who eventually committed suicide (some months after his mother suspiciously "died").
Justice for Children is a national child advocacy organization which was founded in 1987. Its unique purpose is to advocate and intervene on behalf of the abused and neglected child at any stage of an abused child's case. Its efforts include advocacy, legislation, legal, education, collaboration and national recognition. It provides Amicus briefs and other assistance. Its position is that PAS is "junk science."
The most extensive online library on Family Law Politics and Child Custody including Family Court Outrages (RICO crimes, corruption, fraud) from renowned feminist attorney Elizabeth J. Kates, Esq. Be sure to read the hate mail from abusive fathers' rights organizers--quite an eye-full, very insightful.
Mothers who have lost children to a violent offender through family court fraud (RICO) and corruption. Another must read for everyone: "Warning to Mothers..." which details out step-by-step each RICO actor and his/her RICO actions. Excellent site. Mothers of Lost Children works with sister organization: CPPA and Reunite Our Families.
National Association to PROTECT Children (PROTECT)
PROTECT is a national pro-child, anti-crime membership association. It is founded on the belief that the first and most sacred obligation as parents, citizens, and members of the human species is the protection of children from harm. PROTECT is committed to building a powerful, nonpartisan force for the protection of children from abuse, exploitation and neglect. PROTECT's history of results come from its strategy of: a determined single-issue focus (the protection of children from abuse, exploitation and neglect), a meaningful mainstream agenda and the use of proven modern political strategies. It is responsible for the closing of the Incest Loophole in many states--including California's Circle of Trust bill (AKA the Miracle bill). As attorney/author, child's right advocate and PROTECT Board Member, Andrew Vachss, states in his July 27th, 2006 "A Long Time Coming" article: "[PROTECT] is not a 'child advocacy organization.' It is not a 'charity.' It is not some self-promoting Web site with 'helpful links.' It does not provide lawyers—or referrals to lawyers. No 'online counseling' here. The goal is not to sell books, or 'Internet filters,' or 'How to Protect Your Child' materials. And, heresy of heresy!, it does not push 'forgiveness as the only true path to healing.'" PROTECT delivers effective results.
National Alliance for Family Court Justice
National Alliance for Family Court Justice (NAFCJ) was founded in 1993 by Elisabeth Richards. It is an international group run by volunteers dedicated to addressing system failure in the courts and social services with a special focus on retaliatory conduct against protective parents and abused children. NAFCJ seeks to expose Family Court RICO corruption as well as the myriad of family-court affiliated pork-barrel cronyism and its subsequent tax-payer funding fraud ("coffee and flower" judicial slush funds, evaluator slush funds and money laundering, GAL kickbacks, etc). It's strategies include networking and and aggressive lobbying for change.
United for Justice was formed to address mothers losing custody of their children in family law courts as the result of direct fraud "...where bribes and favors have been exchanged" and fraud which also aims to financially decimate mothers and perpetuate continued violence against women and children.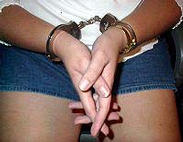 Other Sites of Interest
Great American Heros. Check out their corruption crusader links to actual court documents. Be sure to read the case against Santa Cruz CPS and SCPD: threatening, assaulting and jailing female victims of crime.
Read about NY State former policy analyst, investigator and journalist, Karen Winner who single-handedly exposed the fraud, corruption, violence against battered women and their children, and acts of mal- mis- & non-feasance of CA Family Court and its criminals.
Paula J. Caplan's Women's Enews, "Psychiatric Labels Plague Women's Mental Health," which addresses sexist and misogynistic misuse and abuse of psychiatric labeling of women. Caplan writes, "Many problems are not inside women's heads. They are in external conditions crying out for remedy."
Shocking, but far too typical CA child-custody case where brutally corrupt justice officials knowingly place young children with convicted sex-offender pedophile. Texas comes to the aid and rescue of protective mother, Debra Schmidt and her young children while CA seeks to enforce its right to brutalize women & children. A must read.
Impressive coalition of organized women in California assisting women in their attempt to receive an appropriate--if any--criminal justice response. Be sure to check out their links page
UN Secretary General's Report on Violence Against Women
"Ending Violence Against Women: from Words to Action Study of Secretary General" 2 Page report from UN chief, Kofi Annan who states, "There is compelling evidence that violence against women is severe and pervasive throughout the world." Read the full 139 pg In-Depth Study on All Forms of Violence Against Women and the article summarizing the report which notes escalating violence in the U.S. particularily intimate partner femicide.
UN Gender Shadow Report regarding human rights abuses against women in the U.S. and the failure of the U.S. to conform its laws and policies to promote equality for women as required by the International Covenant on Civil and Political Rights (ICCPR), a treaty ratified by the U.S. in 1992. Do read NOW's contribution which "...concludes that laws and policies in the US in both the private and public sectors make the US workplace as 'one of the least supprortive employment environments for women of any developed nation'." Summary Article.