CPS & Color
California Child Protective Services & Color
Whereas many battered Caucasian women in California wrongfully lose custody of their abused children to abusive batterers, many more Californian women of color wrongfully lose custody of their children to CPS--especially battered women of color.
Although Caucasian women in California have also been wrongfully losing their children (abused or not) to CPS, it is nowhere near the disproportionate number of California women of color wrongfully losing custody of their children to CPS or "the State."
Being female in California is risky enough, being a mother even more so, and marginalized (through violence, poverty, disability, etc.) even far worse; but being all those things and a woman of color in California carries a great, grave risk that the State will do you and your children some serious damage--including jailing you. Read below.
COLOR, CHILD CUSTODY, & STATE SANCTIONED VIOLENCE
CWPE-AFSC report Whose Safety? Women of Color and the Violence of Law Enforcement
One of the best well-rounded reports of Institutionalized violence (AKA State Violence) against women of color: both immigrant and U.S. born. The report is presented within a gender perspective and is particularly informative about State violence against African American women. Written by Anannya Bhattacharjee, sponsored by the American Friends Service Committee and the Committee on Women, Population, and the Environment CWPE-AFSC. Taken from the report's Executive Summary:
At the same time, organizations focusing on violence against women have often failed to appreciate the impact of enforcement violence. Today, growing numbers of women of color and allies are challenging the women's anti-violence movement to expand its understanding of the nature of violence against women and to adopt strategies that take into account not only violence by individuals but also violence perpetrated by the state — whether through law enforcement; political, cultural, and economic domination; or military intervention.
Activist Dialogues A MUST READ!
From the Family Violence Prevention Fund publication entitled Activist Dialogues: How domestic violence and child welfare systems impact women of color and their communities.
Incite! Women of Color Against Violence
From its site: INCITE! Women of Color Against Violence is a national activist organization of radical feminists of color advancing a movement to end violence against women of color and their communities through direct action, critical dialogue and grassroots organizing.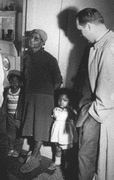 RACISM, GENDER & INCARCERATION
Not in America. And certainly not if you're African-American. From Human Rights' Watch "The country that holds itself out as the "land of freedom" incarcerates a higher percentage of its people than any other country." Think about that: than any other country. "Even more troubling than the absolute number of persons in jail or prison is the extent to which those men and women are African-American. Although blacks account for only 12 percent of the U.S. population, 44 percent of all prisoners in the United States are black."
State and Federal Inmates by Race


Source: Percentages calculated from data in Table 13, Department of Justice, Bureau of Justice Statistics, "Prison and Jail Inmates at Midyear 2002," April 6, 2003. White and Black excludes Hispanics.
"Between 1985 and 1996, for example, the population of women in U.S. prisons increased threefold, with the increase mostly consisting of women of color, particularly African American women," Anannya Bhattacharjee, author of the CWPE-AFSC report Whose Safety? Women of Color and the Violence of Law Enforcement.
Over 11,000 women are imprisoned in California's State Prisons--most are victims of domestic violence, many are jailed for crimes THEIR MALE BATTERERS COMMITTED AGAINST THEIR CHILDREN & THEM. Read that again. In California, if you are women who has been a victim of domestic violence or other violent crime odds are good you're going to jail--odds are even better (higher) if you're a woman of color. Free Battered Women is a San Francisco based organization dedicating to freeing battered women from CA prisons. Be sure to read the Fact Sheet on its site. You can find another informative fact sheet from Purple Beret's website titled, Fact Sheet on Battered Women in Prison.
The California Habeas Project is a collaboration that enhances justice for domestic violence survivors incarcerated for crimes related to their experiences of being abused. With the support of a network of volunteers throughout the state, California Habeas Project seeks to free domestic violence survivors in prison who qualify for post-conviction habeas corpus relief under state law.
Legal Services for Prisoners with Children
LSPC, is a San Francisco based organization that advocates for the human rights and empowerment of incarcerated parents, children, family members and people at risk for incarceration. LSPC responds to requests for information, trainings, technical assistance, litigation, community activism and the development of more advocates. Its focus is on women prisoners and their families, and emphasizes that issues of race are central to any discussion of incarceration.
CA STATEWIDE APPEAL
MORE LITIGANTS SOUGHT
IF YOU WERE A PROTECTIVE PARENT WHO LOST CUSTODY OF YOUR CHILD/CHILDREN (OR A BLOOD RELATIVE OF A PROTECTIVE PARENT WHO LOST CUSTODY) AND WERE DENIED THE RIGHT TO PRESENT EVIDENCE, OR DENIED YOUR CONSTITUTIONAL RIGHT TO A HEARING, OR LOST CUSTODY BASED ON A FRAUDULENT REPORT FROM AN EVALUATOR WHO DESTROYED, SUPPRESSED OR REFUSED TO REVIEW YOUR EVIDENCE (DV Reports, PD reports/calls, WOMEN'S CRISIS CENTER calls, CPS requests, MD reports, THERAPY notes, ETC.) OR ADDRESS YOUR ALLEGATIONS, THEN YOUR CONSTITUTIONAL RIGHTS WERE VIOLATED. PLEASE JOIN THE STATEWIDE APPEAL THAT ADDRESSES THESE CIVIL AND HUMAN RIGHTS VIOLATIONS OCCURRING EVERYDAY IN CALIFORNIA FAMILY AND/OR JUVENILE COURT BY SIGNING THIS SECURE ONLINE FORM AT ReuniteOurFamilies.org NOW.